Lee Ann Womack Gears Up For A BIG Week
Wall Street Journal To 1st Listen The Way I'm Livin' 9/17
Tapes CMT "Crossroads" with John Legend 9/17 for 9/26 Debut
USA Weekend 9/14; NPR "World Café" 9/17 + AMA Showcases 9/19 + 21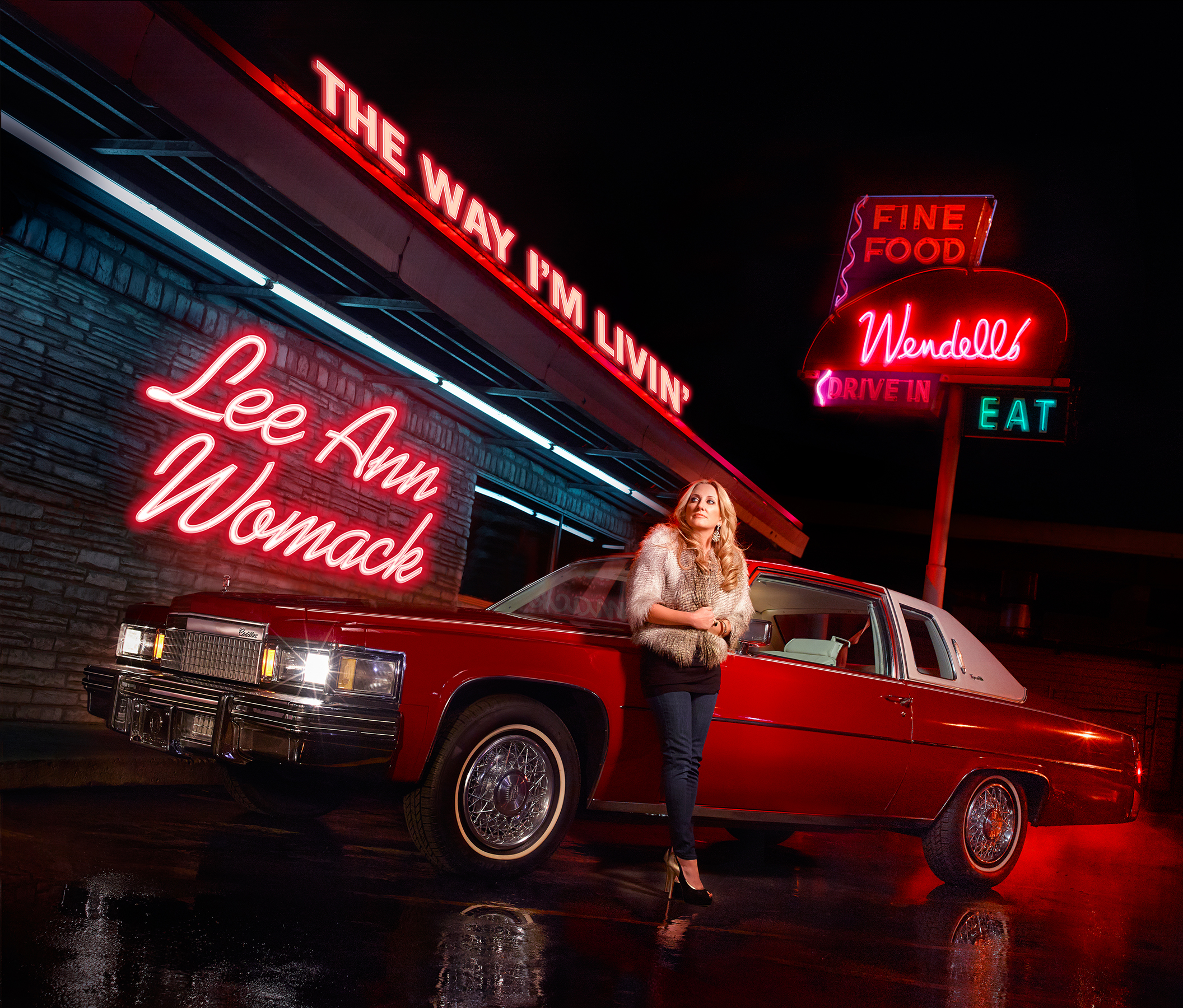 (Nashville, TN) —September 15, 2014 — It may have been seven years since Lee Ann Womack put out a record, but she's – as
The Wall Street Journal
noted when they debuted "The Way I'm Livin'" earlier this summer – "making up for lost time." Having world premiered a provocative video that's attracted much conversation on CMT – with a sneak peek at RollingStone.com – the new week is picking up momentum at a staggering pace.
Wednesday, September 17,
The Wall Street Journal
will again take the lead in bringing the Grammy-winner's decidedly hardcore music to the public, streaming
The Way I'm Livin'
in its entirety. Produced by Frank Liddell (Miranda Lambert, Chris Knight, Pistol Annies), the roots writer collection takes life at its most unvarnished and splintered – attracting those who lament the passage of the 'tough stuff' from the genre.
Read Full Press Release
****************
For Immediate Release
4 September 2014
Lee Ann Womack Gears Up for a Big Fall
Releases THE WAY I'M LIVIN' Sept. 23
CMT "Crossroads" Airing 9/26; Co-Hosts IBMA Awards Oct. 2;
Texas Monthly, Garden & Gun, PEOPLE, Esquire + NPR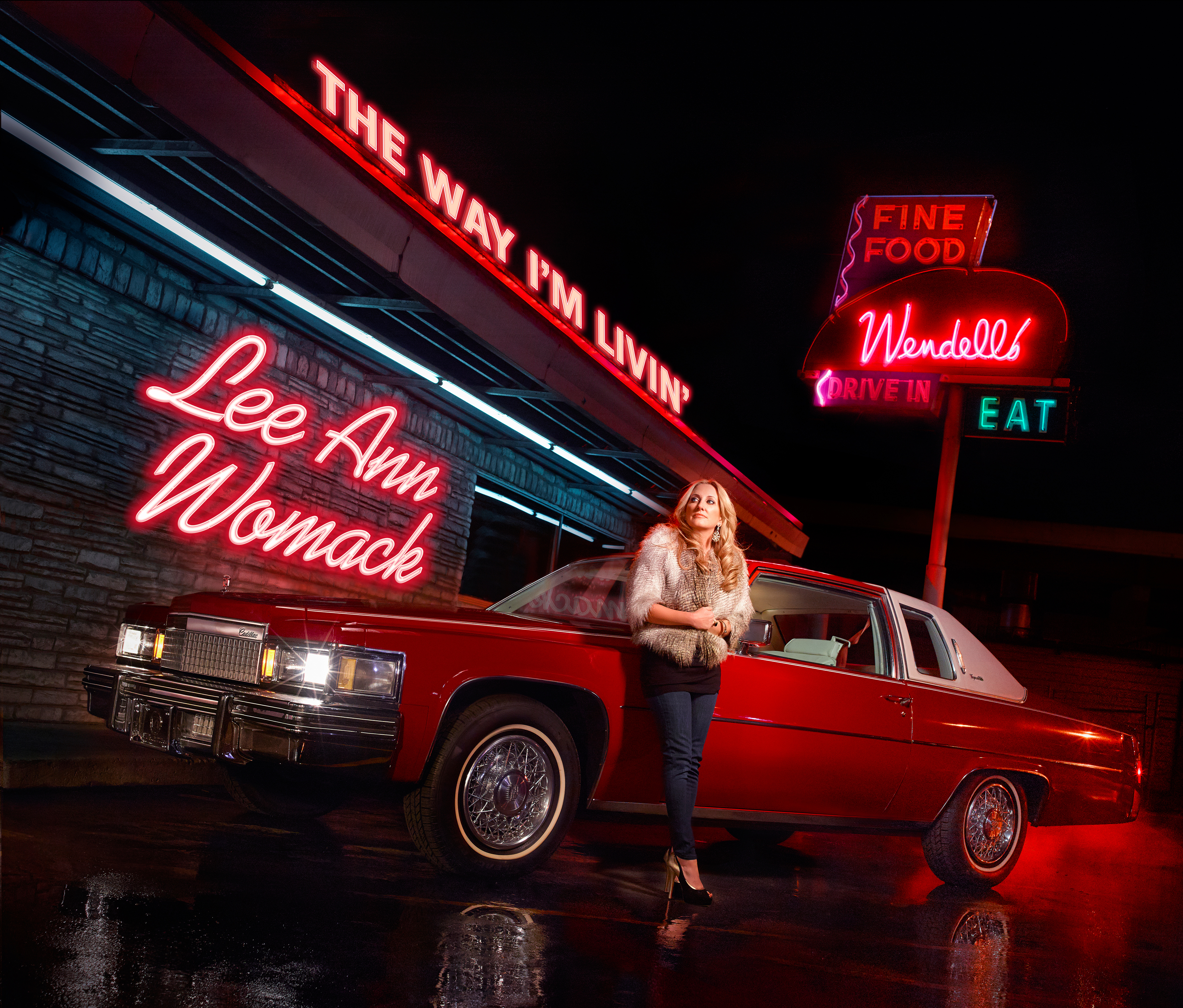 Nashville, TN: As the Sept. 23 release for
The Way I'm Livin'
draws close, Lee Ann Womack is cutting a wide path through American music. With CMT: Country Music Television's "Crossroads," featuring a collaboration with John Legend, airing on Sept. 26 and her upcoming International Bluegrass Music Awards co-hosting duties October 2 in Raleigh, it's looking like a busy fall.
"When I said I was ready to get back to work," laughs the Grammy-winning progressive traditionalist, "I knew they were going to throw it at me, but this has been a whole lot more than I could've dreamed. It's kind of exciting to see how far I can take this music – or rather the songs of the writer/artists I cut."
Early response to The Way I'm Livin' has been strong. The Wall Street Journal debuted the title track, writing, "she digs in like she's making up for lost time" and USA Today wrote the CD is "irresistibly teasing." Look for spreads in Garden + Gun, Texas Monthly, People, Cowboys & Indians, Lone Star Music, Esquire's Playlist, various daily papers, NoDepression.com and NPR's Weekend Edition.

Read Full Press Release

****************

Nickel Creek Presented With Platinum
Acoustic Trio Surprised With Plaques At Austin Show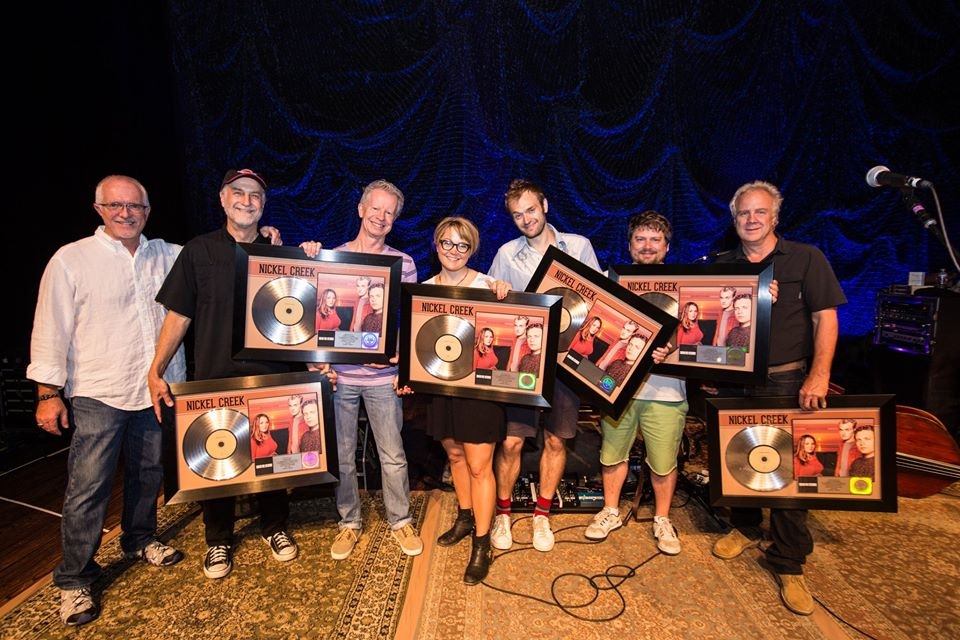 (Pictured: Cliff O'Sullivan, John Kunz, Terry Lickona, Sara Watkins, Chris Thile, Sean Watkins and Gary Paczosa)
(Austin, TX) — August 27, 2014 —On Saturday, Nickel Creek was presented with the band's first platinum record for its Sugar Hill Records debut, Nickel Creek. Following their sound check at Austin City Limits Live At The Moody Theater, the trio was surprised with special plaques to commemorate the accomplishment.

On hand to present Nickel Creek with their platinum were Sugar Hill General Manager Cliff O'Sullivan and Sugar Hill Vice President of A&R Gary Paczosa (who also engineered Nickel Creek.) Members of Austin's musical elite, Terry Lickona, producer of Austin City Limits, and John Kunz, owner of Waterloo Records, also joined in on the impromptu ceremony.

"We wanted to be able to share in this moment with Chris, Sean and Sara and where better than this beautiful theater!" Cliff O'Sullivan shares. "Selling a million albums is a tremendous achievement and we are thrilled to be able to celebrate it with Nickel Creek and applaud the enduring success of the album, which is a cornerstone of Sugar Hill's musical legacy."

Read Full Press Release

****************

Sugar Hill Records Celebrates IBMA Nominations
Preeminent Bluegrass Label Garners Nods For Musicianship And Liners


(Nashville, TN) — August 14, 2014 — Sugar Hill Records is excited to share the label's 2014 International Bluegrass Music Association's (IBMA) nominees. A wide breadth of talent was highlighted in the acoustic music genre and Sugar Hill's roster and catalog earned nods for instrumentalists and liners, as well as a special upcoming International Bluegrass Hall of Fame induction.

Read Full Press Release

****************
TORY BURCH BLOGS LEE ANN WOMACK & THE WAY I'M LIVIN'
Joins Jenny Lewis, Audra McDonald, Karen Elson, Q-Tip in Music Issue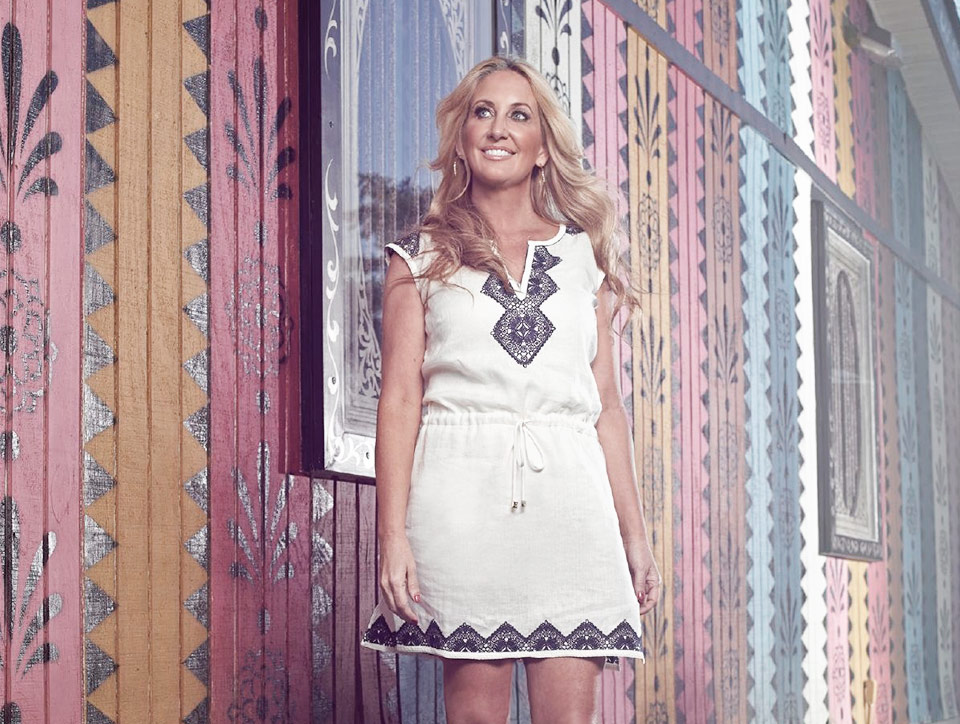 (Photo by John Scarpati)
(New York, NY) - July 29, 2014 -
With
The Wall Street Journal
debuting the title track to
The Way I'm Livin'
and
USA Today
building a 'Listen Up' playlist of the scorching Adam Wright song about consumption and surrender,
Lee Ann Womack
's first album in almost seven years is attracting attention from some very intriguing places. Today, Tory Burch features Womack and her upcoming album as part of her online "Music Issue."
"When we got the inquiry, I was puzzled," Womack admits, "because while I like clothes, I don't necessarily think of someone like Tory Burch and my kind of music. Then I heard some of the other artists she was doing, and I was pretty fired up."
Read Full Press Release
****************
IN COLLABORATION: THE MILK CARTON KIDS & SARAH JAROSZ
FEATURING ACCLAIMED MUSICIANS ALEX HARGREAVES, PAUL KOWERT AND NATHANIEL SMITH UNITE FOR A LIMITED NUMBER OF ENGAGEMENTS THIS FALL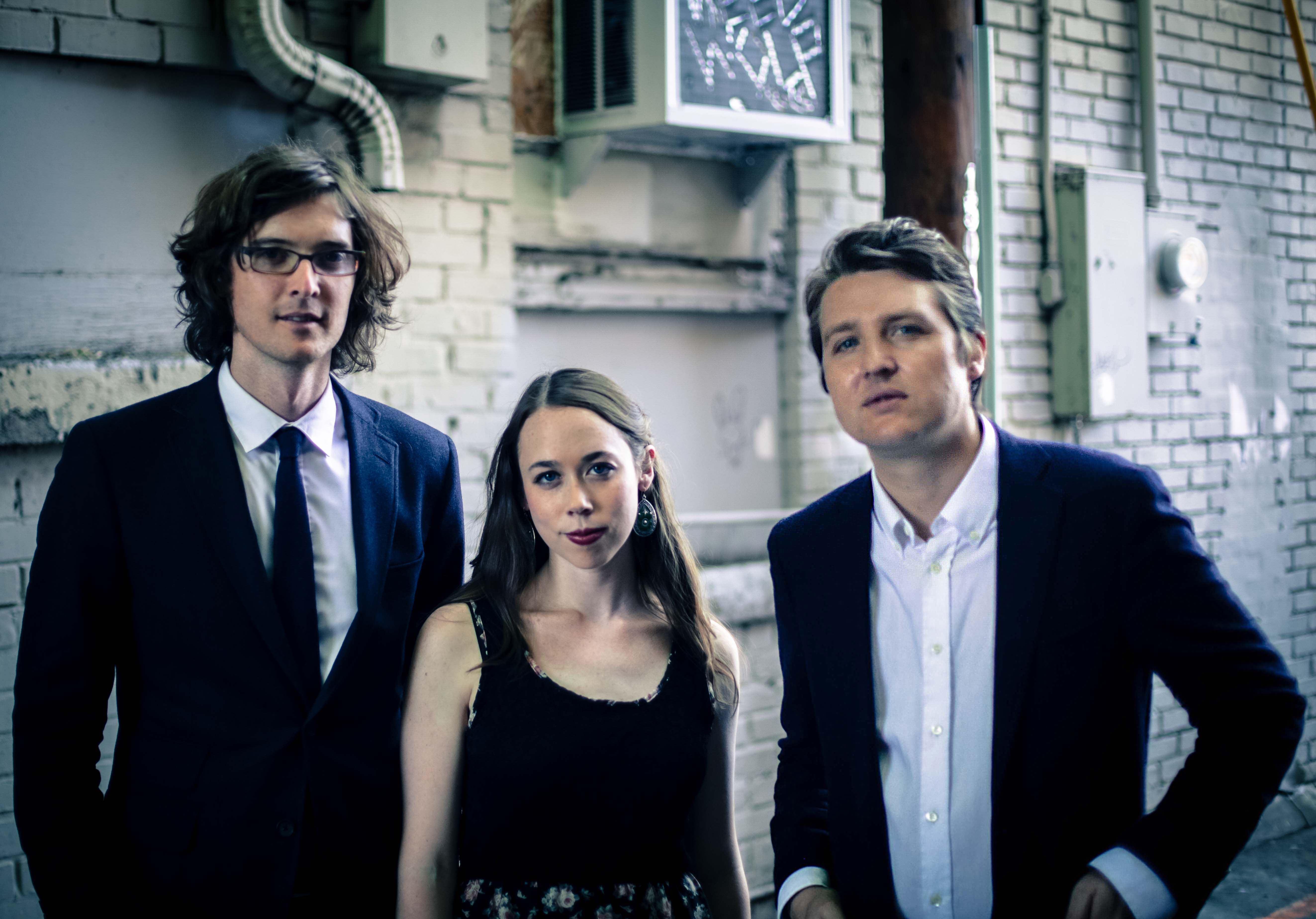 Grammy-nominated folk artists
The Milk Carton Kids & Sarah Jarosz
, along with Alex Hargreaves, Paul Kowert and Nathaniel Smith will offer a very special evening of collaborative performance in front of one microphone at some of the country's finest acoustic music venues.
Following their meeting at the renowned Telluride Bluegrass Festival in 2013, Sarah Jarosz and The Milk Carton Kids have pursued a collaboration with a depth and identity all its own. Their initial performances (on Austin City Limits and at Lincoln Center's American Songbook Series) have been widely heralded for the seamless harmony of the three singers, the unassailable virtuosity of the players, and the obvious if uncommon chemistry the young artists have found with one another. This Fall, they are presenting it, fully realized for the first time, in a limited tour of some of the country's finest performing arts centers and symphony halls.
Read Full Press Release
****************
MOE.'S OFFICIAL "BLOND HAIR AND BLUE EYES" VIDEO WORLD PREMIERE AT TEAMCOCO.COM

moe. Celebrates No Guts, No Glory With Highest Career Chart Debut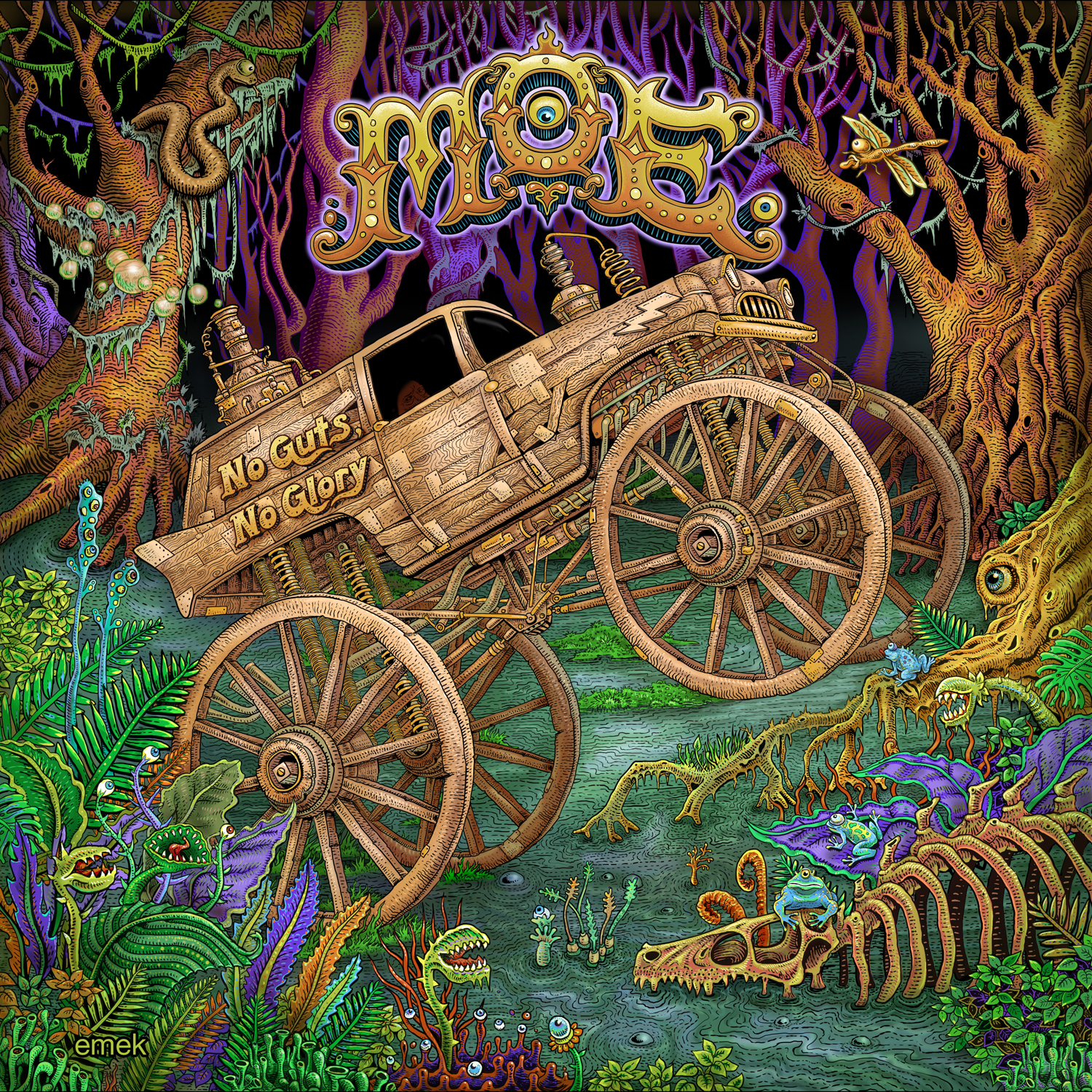 (Nashville, TN) — June 9, 2014 —
moe.'s official video for its single "Blond Hair and Blue Eyes" premieres today at Conan O'Brien's online site,
TeamCoco.com
. The video finds the band standing up for the song's namesake, a little girl with blond hair and blue eyes on a tear through the town. Using more than a little bit of muscle, the Jay Blakesberg directed video highlights performance and strong arming from the band in a very tongue in cheek take on the track. The video stars moe., bassist Rob Derhak's daughter Emma, whom the song is about, and Derhak's sons Eddie and Zach, and their friends.
Read Full Press Release
****************
BLACK PRAIRIE ANNOUNCES US FALL TOUR

New Album Fortune Out Now

"Black Prairie is rewriting '50s bluegrass and country, itinerant Southern blues and '70s New Wave into a whole new language of American pop music." - Relix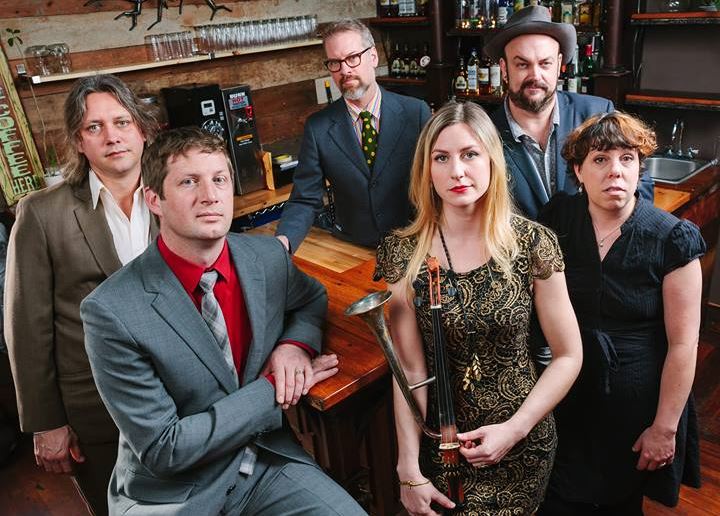 Black Prairie has confirmed US tour dates throughout September in support of their acclaimed third album Fortune, produced by Vance Powell (Jack White, Red Fang).
The Portland band features Chris Funk, Nate Query, Jenny Conlee and John Moen of The Decemberists with front-woman Annalisa Tornfelt and guitarist Jon Neufeld. Fortune proves that Black Prairie has outgrown its roots as a casual side-project, solidifying into a primary, creative focus for its members - a band with its own internal momentum, genuine character and style. "Making this record was the most collaborative and magical thing," says Chris Funk.
Read Full Press Release
****************
Lee Ann Womack Releases THE WAY I'M LIVIN' Sept. 23
Produced by Award-Winning Frank Liddell, First New Music in Over 6 Years
Title Track Bows at WSJ.com 5/22, Arrives at Radio Next Week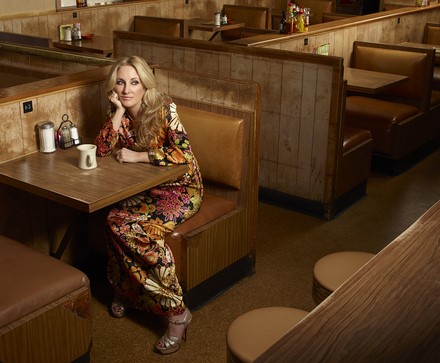 Nashville, Tenn. (May 19, 2014) – Lee Ann Womack
never intended to go almost seven years between records, but she knew when she released new music, she wanted it to be very special. For the Grammy-winner who's one of the rare women to win the prestigious Country Music Association's Album of the Year, she wanted an album made purely for the sake of the songs and the spark of the musical performances.
That album – the eagerly anticipated
The Way I'm Livin'
– arrives
Sept. 23
on noted roots label Sugar Hill. Produced by Frank Liddell (Miranda Lambert, David Nail), it features the songs of Chris Knight, Mindy Smith, Buddy Miller, Mando Saenz, Hayes Carll, Neil Young, Bruce Robison and one cagey cover lifted from Roger Miller.
Read Full Press Release
d15