Black Prairie
A Tear in the Eye Is a Wound in the Heart
Release date: September 18, 2012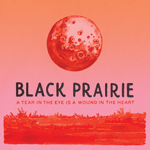 On September 18, Sugar Hill Records will release 'A Tear in the Eye Is a Wound in the Heart…' the second album by Black Prairie, the exploratory, back-porch ensemble founded by the Decemberists' Chris Funk, Nate Query and Jenny Conlee.
Produced by Tucker Martine, 'Tear in the Eye…' is the follow up to 'Feast of the Hunter's Moon', and the first Black Prairie album to primarily feature vocalist Annalisa Tornfelt. Written collaboratively by all band members, the album feels cinematic and familiar; Tornfelt's gentle, classic country-inspired singing is connected to the band's Baltic-Appalachian instrumentals by strange, orchestral interludes. The record is an evolution of the band's love of instrumental, Italian film score weirdness and the venerable, forgotten roots of American and Eastern European folk.
Read Full Press Release and Get Album Materials
***************
Kathy Mattea
Calling Me Home
Release date: September 11, 2012


Nashville, TN – June 27th, 2012 - Most artists take fewer and fewer risks as they get older, but Kathy Mattea is a striking exception. She didn't play it safe while she charted mainstream country hits—16 of them reaching the top ten—and she's not about to start now.
Four years ago, Mattea, one of the most sure-footed country-pop song interpreters of her generation, caught everyone off guard with an album of old-timey Appalachian mining songs called Coal. She's delved even deeper into her Appalachian heritage with Calling Me Home, available from Sugar Hill on September 11th, 2012, co-produced with modern acoustic mastermind Gary Paczosa and featuring liner notes from bestselling author, and Kentucky-born kindred spirit, Barbara Kingsolver.
Mattea's new direction couldn't have taken her further from her old way of doing things. Where once she was pitched songs by Music Row writers, now she collects the generations-old and new but old-in-soul tunes that move her at folk gatherings, and rounds out her repertoire through extensive research. Two songs here came from a CD that Alice Gerrard, of the influential '70s folk duo Hazel & Alice, personally pressed into her hand at one such festival.
Once Mattea found her songs, there was still the matter of wrapping her voice around them. A mountain modal folk ballad may sound like the simplest thing on earth, but that doesn't mean it's easy to sing. Says Kathy, "My big fear when I made Coal was I didn't grow up singing this stuff from when I was young. I've had a commercial music career for decades now. Am I gonna sound like a lounge singer trying to sing Appalachian songs?"
Read Full Press Release and Get Album Materials
***************
Joey+Rory
His and Hers
Release date: July 31, 2012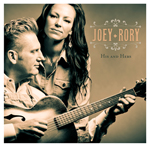 In signing up for CMT's competition show Can You Duet in 2008, Rory Feek wanted one thing: for the world to know his wife Joey, and the power of her voice.
"My whole hope was: I'm going to get eliminated immediately, but they might hear her sing," he says, now four years into a career as her Joey+Rory duo partner, and a decade into life as her proud husband.
The couple far surpassed his expectations, Joey+Rory taking third place and subsequently signing with Vanguard/Sugar Hill Records. Over two studio albums — 2008's The Life of A Song, from which single "Cheater Cheater" is culled, and 2010's Album Number Two — country fans have indeed come to know Joey's crystalline belt. They've also come to know Joey+Rory as a couple, rooted in an 1870s Pottsville, Tenn., farmhouse, Rory writing songs and tinkering with old cars, Joey gardening or baking bread at Marcy Jo's Mealhouse, the local restaurant she owns with sister-in-law Marcy. But with the new His and Hers, due out via Sugar Hill on July 31, listeners will get fully acquainted with both Joey and Rory as individually arresting lead singers, Joey taking the fore on half of the album's tracks, Rory's warm, approachable vocal helming the others.
"In all of our live shows, he's always done half the singing and I do half," Joey says. "So we just felt like that was the right direction to go with this album – let it really be more of what we are together, and fill it full of great songs."
Read Full Press Release and Get Album Materials
***************
Don Williams
And So It Goes
Release date: June 19, 2012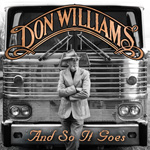 Nashville, TN – March 20th, 2012 - Don Williams' legions of fans across the globe have long been hoping, but likely not expecting to hear new recordings from him again. He has been pretty determined to spend most of his time on his Tennessee farm, quietly, with his family— and for over four decades, country music's "Gentle Giant" has been known for doing what he wants to do. So it's both exciting and a very welcome surprise to announce the release of the brand new Don Williams album And So It Goes, on Sugar Hill Records on June 19th, his first since 2004. It is a release very much in the classic Williams mode—mellow yet rhythmic, life-affirming yet thoughtful, serenely masculine, and loaded with singularly strong, memorable songs and consummate vocals.
Those are the attributes that won him over fifty top hits from the early 1970s through the early 1990s, including such standards-to-be as "Tulsa Time," "I Believe in You," "It Must Be Love" and "Good Ole Boys Like Me," and won him the ultimate accolade with his induction in the Country Music Hall of Fame in 2010. With the chance to reunite with honored Nashville producer Garth Fundis, with whom he'd worked for seventeen years on many of his greatest successes and encouragement from his management and the label, he decided to go back to the studio one more time, as well as out on tour to support the release.
Read Full Press Release and Get Album Materials
***************
Pat Green
Songs We Wish We'd Written II
Release date: May 8, 2012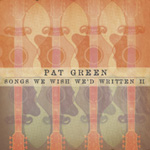 Nashville, TN — November 1, 2011 — Three-time Grammy nominee Pat Green announces the release of SONGS WE WISH WE'D WRITTEN II, due in stores May 8, 2012. The album marks Green's first release on his new record label Sugar Hill Records and is the follow-up to his 2001 collaboration with friend Cory Morrow, SONGS WE WISH WE'D WRITTEN.
Nearly a decade after releasing the first tribute/collaboration with Morrow, Green has sold over 2 million albums, earned three Grammy nominations, released a string of Top 10 hits and created a well-earned reputation for bombastic live shows. Tapped in People magazine as "the Springsteen of the South West," he has become a cultural force selling out venues from House of Blues in Los Angeles to Nokia Theater in Time Square, down to the Houston Astrodome in Texas.
Known for his infectious enthusiasm for music and life, Green's energy is contagious and sends a charge through a live audience. That energy has been captured once again on record with his new album SONGS WE WISH WE'D WRITTEN II.
Read Full Press Release and Get Album Materials
*****************
Marty Stuart
Nashville, Volume 1: Tear The Woodpile Down
Release date: April 24, 2012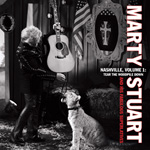 Nashville, Tenn. – February 16th, 2012. GRAMMY-winner and American music icon Marty Stuart will release his third album for Sugar Hill Records entitled Nashville, Volume 1: Tear The Woodpile Down on April 24th. The ten song collection, almost entirely written by Marty, features his touring band of musical missionaries The Fabulous Superlatives. Nashville staples Buck Trent, Kenny Lovelace, and Robbie Turner are joined by country music royalty Hank Williams III and Lorrie Carter Bennett (The Carter Family) on harmony vocals to fill out the cast.
Marty Stuart arrived in Nashville on Labor Day weekend, 1972. "I came to Nashville from the land of Jimmie Rodgers, looking for a place, a place to belong inside the world of country music. It was a country boy Hollywood, the air castle of the South, a dream factory." 40 years, a decade worth of hits and a full round of hillbilly stardom later, Stuart has hillbilly rocked himself back to the bosom of traditional country music.
Read Full Press Release and Get Album Materials
*************************
Record Store Day 2012 Releases
Black Prairie - Singers, Volume 1: Portland (Record Store Day Exclusive)
Townes Van Zandt - At My Window (Vinyl LP Reissue)
Ricky Skaggs and Tony Rice - Skaggs and Rice (Vinyl LP Reissue)
Release date: April 21, 2012


Nashville, TN – March 13th, 2012 – Sugar Hill Records is excited to announce that as part of Record Store Day 2012 we will be releasing three special titles in extremely limited quantities. We have dipped into our catalog to re-introduce two of the most time honored records on the label to the vinyl medium - Ricky Skaggs' and Tony Rice's Skaggs and Rice (1980) and Townes Van Zandt's At My Window (1987). Also being released is a special 7" from Americana eclectics Black Prairie (featuring members of the Decemberists) and special guests James Mercer and Sallie Ford. Record Store Day will be celebrated on April 21st, 2012.
Read Full Press Release and Get Album Materials
*************************
moe.
WHAT HAPPENED TO THE LA LAs
Release date: January 24, 2012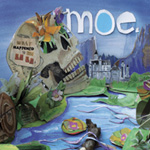 Nashville, TN - Wednesday, November 9, 2011 - After twenty years together and nine studio albums, one might think moe. had pretty much done it all. Yet the famously independent-minded jam band is reaching for new ground on its latest project, WHAT HAPPENED TO THE LA LAs.
To begin with, moe. has signed with Sugar Hill Records, the band's first label sojourn in nearly a decade. The group also chose to work with an outside producer for the first time since 1998's Tin Cans & Car Tires, with John Travis (Kid Rock, Social Distortion, No Doubt) getting the call.
"For most of our career we've done everything on our own in a very cottage industry, home-y kind of way," notes Chuck Garvey, who contributes guitar and vocals to moe. Other members of the band are Vinnie Amico (drums), Rob Derhak (bass, vocals), Jim Loughlin (percussion, Malletkat) and Al Schnier (guitar, vocals, keyboards, mandolin).
Continues Garvey, "With most of our recordings, we've gotten the equipment together, we've paid for everything ourselves, we've produced it ourselves and we've had complete control over it. For this album we actually made the leap of putting ourselves in someone else's hands to help us come out with something different."
Read Full Press Release and Get Album Materials
*******************************
The Deep Dark Woods
The Place I Left Behind
Release date: October 18, 2011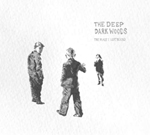 Nashville, TN (July 27th, 2011) - The Deep Dark Woods wake the ghosts of Appalachia with their prairie gothic pyre-side tales. On their new record, The Place I Left Behind, the band finds continuity in themes of temporal and geographic alienation, neglected inward trails, and the scars of abandoned intimacies.
Buoyed by the success of working with mastermind recording engineer Darren Van Niekerk, on their self produced CBC Songquest single "Charlie's (is Coming Down)" the band decided to approach their new album the same way. Recorded in Halifax with Van Niekerk behind the board once again, The Deep Dark Woods' first self produced album allowed them to experiment in the studio as never before. Toying with numerous reverbs, vintage amps, instruments and mellotron, they also tried some never before played versions and arrangements of some of the album's songs. While more physically and mentally exhausting than previous albums, it turned out exactly the way the band wanted it to and the reward is their most realized album to date.